Presented By



Join us this Thursday, February 16, 2023, for a LUNCH (12:00-1:30pm) meeting at the Queen City Club (331 E. 4th St, 45202), for a presentation by Brigadier General Kimberly A. Peeples, U.S. Army, Great Lakes & Ohio River Division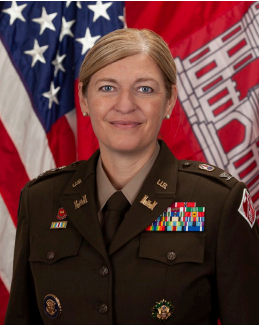 The U.S. Army Corps of Engineers Great Lakes and Ohio River Division Commander Col. Kimberly Peeples was promoted to the rank of brigadier general by the USACE Commanding General and 55th Chief of Engineers Lt. Gen. Scott Spellmon on July 8 at a ceremony in Covington, KY.
Col. Peeples joined Lt. Gen. Spellmon as he pinned the one-star insignia onto her uniform in front of LRD workforce, as well as Col. Peeples' family and friends.
Rising through the ranks and leadership positions to become a general officer is a lofty and difficult achievement that fewer than one percent of military members ever reach. However, Col. Peeples has proven through her experience that she is more than deserving of this designation.
Col. Peeples assumed command of LRD on June 11, 2021. She serves as the senior military officer in the division, headquartered in Cincinnati, Ohio, responsible for delivering engineering and water resource solutions for the Great Lakes and Ohio River region, which covers 335,000-square miles and encompassing portions of seventeen states. The division's civil works mission provides planning, construction, and operation of navigation structures and flood damage reduction, hydropower, environmental restoration, water management, recreation, and disaster response. LRD executes military construction in Ohio, Kentucky, Indiana, Illinois and Michigan with design and construction of barracks, hospitals, airfields and family housing on military installations. LRD's seven districts are in Chicago, Detroit, Buffalo, Huntington (West Virginia), Louisville, Nashville, and Pittsburgh.
RSVPs are required to attend, whether you are eating lunch or not, so if you would like to attend please click HERE by 5:00 p.m., Monday, February 13, 2023, or contact [email protected].
Regular Entree – Turkey Club Sandwich with Chips.
Vegetarian Entree – Seasonal Vegetables with Quinoa (V/GF.DF).
Salad Entree – Chicken Caesar Salad.