Join us this Thursday, March 23, 2023, for a LUNCH (12:00-1:30pm) meeting at the Hilton Cincinnati Netherland Plaza, Hall of Mirrors, for our Annual Jefferson Award Presentation.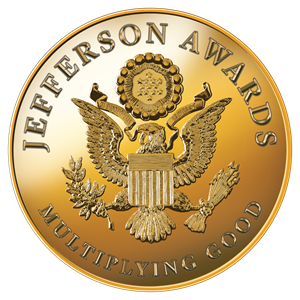 The Rotary Club of Cincinnati is again teaming up with the American Institute of Public Service (AIPS) as a local sponsor of the Jefferson Award, to help find and honor individuals in our community that go above and beyond the call of duty when it comes to their volunteer efforts in the Greater Cincinnati area. In partnership with the Enquirer Media and Local 12, The Rotary Club of Cincinnati will be looking to recognize ordinary people who do extraordinary things without the expectation of recognition or reward. These are individuals that are changing and improving our community, while addressing an important issue facing our area.
The Jefferson Award, which is recognized as the Nobel Prize for public service, was created in 1972 by Cincinnati's own U.S. Senator Robert Taft and Jacqueline Kennedy Onassis, and is presented annually to recipients in more than 90 cities in the United States. The AIPS's mission is to encourage and honor individuals for their achievements and contributions through public and community service.
During our March 23, 2023, meeting we will honor these outstanding individuals. Our winner will then be invited to attend the National Jefferson Award Program. Many thanks to our community partners, the Cincinnati Enquirer and Local 12 for their continued support in working with our Rotary Club of Cincinnati.
The Jefferson Award is sponsored by The Rotary Club of Cincinnati, Cincinnati Enquirer and Local 12.
LOCATION: Hall of Mirrors
RSVPs are required to attend, whether you are eating lunch or not, so if you would like to attend please click HERE by 5:00 p.m., Monday, March 20, 2023, or contact [email protected].
Regular Entree – Grilled Chicken Breast with black olives, sun-dried tomatoes, parmesan polenta, blistered brussel sprouts & roasted tomato sauce (GF).
Vegetarian Entree – Mushroom Ravioli with parmesan cream sauce, wilted spinach & mushrooms.
Salad Entree – Baby Kale Caesar salad with grilled salmon, baby kale, focaccia croutons, parmesan & Creamy garlic vinaigrette (GF).
*all entrees can be served gluten free at member's request to [email protected].